Mayer Alloys supplies Automotive Manufactures and Collision Repair Shops with High Quality Solder Alloys.
Solder covers a wide range of uses in the automotive industry ranging from exterior body customization and repairs to radiators, and Mayer Alloys can provide the materials for each of these applications – from wire, bars and ingots, lead-based and lead-free solders, including solid core, rosin core, and acid core solder. 
Car manufacturers and repair shops need durable materials in order to produce or repair vehicles that consumers can depend on. Mayer Alloys has been a trusted source for soldering materials for armatures, wire harnesses and other parts required in the automotive industry. 
Mayer offers a wide selection of solder alloys available in bar and wire form. Some of the solder alloys used in the automotive industry are listed below. If there is an alloy you require that is not listed here, please contact our sales team.
To order or get technical assistance,
contact
 our sales team at 888.513.7971, email us at
sales@mayeralloys.com
or click below and fill out an inquiry form.
Anchor Links:
Automotive Solder for Radiator Manufacturing and Repair
Extra care is required to ensure a vehicle is running properly and efficiently. Batteries, ignition coils, breaker points, headlights, taillights, instrument panels, horns, and heater fans are just some of the crucial components in a car that may require soldering.
Automotive Body Solder for Repairs
Mayer Alloys offers premium body solder for a variety of applications, from customizations to collision repairs. Custom and restoration body shops utilize solder to fill seams, level uneven bodywork and blend custom features into vehicles. The body fillers we offer provide superior adhesion and excellent durability, making your job easier. Available in both lead and lead-free varieties.
Solder for Radiator Assembly and Repair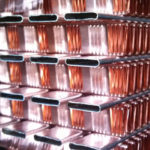 Mayer Alloys supplies the radiator industry with materials to repair and assemble Radiators, Heater Cores and Gas Tanks. We offer tin lead and lead free alloys. Common materials used for radiator assembly and repair include 15Sn/85Pb, 20Sn/80Pb, 30Sn/70Pb, 35Sn/65Pb and 40Sn/60Pb.  All material is available in ingot, bar and wire. 
To order or get technical assistance, contact our sales team at 888.513.7971, email us at sales@mayeralloys.com or click here to fill out an inquiry form and we will contact you.

Automotive Packaging and Fulfillment Services
Mayer Alloys offers automotive packaging and fulfillment services. Located in
Ferndale, MI just minutes outside of Detroit,
our warehouse is incredibly convenient for the automotive and industrial sectors in southeastern Michigan. We have over 36,000 sq. ft. of space dedicated to packaging and fulfillment for automotive products, as well as providing
solder
to fit all of your automotive assembly and repair needs. We service your needs from the time it hits our warehouses to the moment we ship it out. We offer
full-service military, automotive, and commercial packaging solutions
for all types of parts. Mayer's custom packaging and crating solutions are tailored to your needs. We handle your job every step of the way from arranging the inbound shipping, to receiving your parts, packaging and palletizing them and working with your team to ship them to your customers.
If you'd like to learn more about our packaging solutions for your business,

contact us here

, give us a call at 844-564-6087 x103 or email us at packaging@mayeralloys.com.