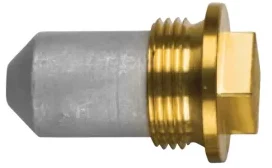 Zinc anodes are used to protect the metallic parts of boats and other water vessels from electrolysis-caused corrosion. Zinc is a sacrificial anode, which means it oxidizes quicker than the metal it is protecting, thus protecting the iron from corroding. At Mayer Alloys, we have zinc anodes available in weld-on and bolt-on mounting systems. Additional applications may include anode configurations such as disk, plates, or other geometries.
Types of Zinc Anodes
Hull Anodes
Ballast Tank Anodes
Anodes for Bulkheads
Anodes for Piers and Pilings
Bracelet Anodes
Heat Exchanger/Condenser Anodes
Soil Anodes
Pencil Anodes
These types of zinc anodes are designed to protect ships, barges, tankers, and larger vessels. Some can be used on the walls within the hull of a ship, container, or vehicle. Others can be used around docks, harbors, and pipelines, as well as underwater, underground, and on heat transfer equipment. Zinc Anodes are manufactured to the latest Mil-Spec and are also covered by the ASTM-418-95 Type I Alloy. Other types of Zinc Anode Alloys manufactured would meet or exceed the latest ASTM-418-95 Type II Alloy.
For more information, FREE Technical Assistance and current pricing, contact 888.513.7971, email sales@mayeralloys.com or fill out the form in the Request a Quote link below.