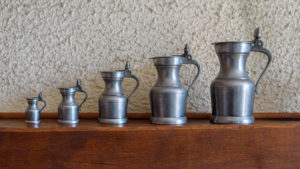 Pewter is a malleable metal alloy with a low melting temperature of around 170–230 °C (338–446 °F). Traditionally composed of 85–99% tin and mixed with approximately 5-10% antimony, 2% copper, bismuth, and sometimes silver, pewter is commonly used for crafting.
Applications for Pewter
Lead-free pewter ingots and alloys are used for crafting:
Jewelry
Gifts
Collectibles
Novelty items
Accessories
Awards
Decorations
We offer pewter alloys in bar or ingot. You can purchase them in bulk or per weight. Contact us for pricing and to place any orders.
Why Choose Mayer Alloys as Your Pewter Supplier
Mayer Alloys provides highly competitive prices for pewter alloys, soldering wire, and other metal alloy products across a comprehensive spectrum. Our extensive stock of products is coupled with first class service that is fast and friendly. We have a team of professional consultants at every sales office who can offer advice and suggestions throughout your pewter purchasing purchase.
For more information and to a get a quote, contact 888.513.7971, email sales@mayeralloys.com or fill out the form in link below.
Also, please send us photos of your pewter creations.  We would love to feature them on our website.