One Stop Receiving and Pickup for your Cross-Border Shipments to Canada.
Looking for a partner to receive and prepare your cross border shipments to Canada? From receipt of your shipments, to providing you with the right information, to consolidating and preparing them for pickup, we've got your back to keep your supply chain running smoothly.  Here are some of the benefits of Mayer's Cross Docking Services for Inbound US Shipments:
Located Close to the border –

 Mayer's warehouse is only 13 miles from the US Canada border and is conveniently located close to major expressways.

Peace of Mind – Mayer offers a secure warehouse with 24/7 indoor and outdoor video surveillance to provide peace of mind that your shipments are safe with us.
Pallets and Cartons – Mayer's 36,000 square foot warehouse in Ferndale, MI, can accommodate all of your US inbound shipments.  From cartons, to pallets and even oversized pallets you can count on Mayer to receive and safely store your shipments until they are pre-cleared and ready for pickup.
Docks and doors – Whether your shipments require a loading dock or overhead doors,  Mayer's facility offers both options and loading and unloading is handled seamlessly by our experienced warehouse team.
Save Money and Time – Ship all of your US inbound shipments to one location.  Mayer will receive and consolidate them for pickup, to create efficiencies for clearing and transporting your shipments into Canada.
Avoid Customs Delays –  Our experienced warehouse team will work with you to provide the information you need to pre-clear your shipments, so there is no delay once your drivers reach the border.
Get a Cross Docking Quote
USA – Canada Fulfillment Services to keep your Supply Chain running smoothly.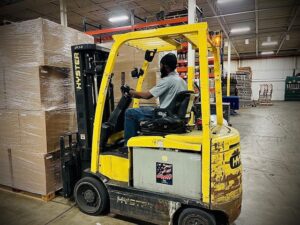 Do you receive orders from US customers? If you're based in Canada, including nearby Windsor, ON, we can provide you with fulfillment services to avoid having to ship goods into and out of Canada, saving you money on customs fees and shipping.  Mayer's USA – Canada Fulfillment Services allow you to fulfill orders to US customers in the US. Services. We'll make sure all shipping and processing is handled according to U.S. regulations to ensure there are no costly snags in your supply chain.
For more information on Mayer's Canadian Cross Border and Fulfillment Services Contact us, give us a call at 844-564-6087 x104 or email sales@mayeralloys.com to discuss how we can help you manage your USA inbound shipments and your US customer orders. 
Check out 4 ways that cross-docking makes shipping U.S. goods to Canada easy!
Domestic Cross-Docking Services
Our expert cross-docking capabilities aren't exclusive to international businesses! If you're shipping from one domestic point to another, we'd be happy to accommodate you in receiving your shipments, storing them on a short term basis and prepping your goods for an outbound carrier.
For more information on Mayer's Domestic Cross Docking Services,  Contact us, give us a call at 844-564-6087 x104 or email sales@mayeralloys.com to discuss your cross docking needs.
Fulfillment/Pick and Pack Services
Our 36,000 sq. ft. distribution warehouse is just minutes from Windsor in Metro Detroit and can provide a variety of fulfillment and inventory management services for businesses, including:
Acting as a delivery destination for Canadian Companies ordering from U.S. Manufacturers
Fulfillment Services to US Customers
Secure short-term and long-term storage of your goods (on a pallet or carton basis)
Distribution on unit or bulk basis to your U.S. customers
Receiving, warehousing and shipping, including just-in-time services
Get a Warehouse Services Quote
Our Location