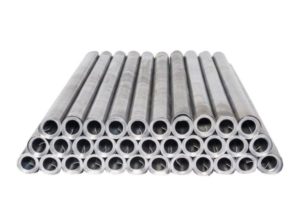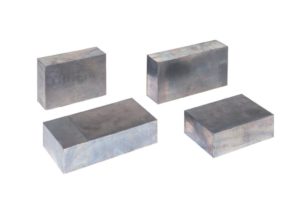 Lead is one of the most preferred materials for high energy radiation operations. Its density, high atomic number (82), and level of stability are some of its main benefits, in addition to its ease of use and availability.
Because they're highly effective at protecting those exposed to radiation, like gamma rays and x-rays, lead sheet and lead bricks are great shielding devices. They're most often used in nuclear and radiation therapy applications, radioactive isotope creation, ballast weights, and counterbalances. Other uses of lead sheet and lead bricks include applications in roofing, soundproofing, and waterproofing.
Lead sheet comes in a variety of sizes and thicknesses. The most commonly used sizes include:
4' x 7' x 1/32"
4' x 7' x 1/16"
4' x 7 'x 1/8"
Mayer offers Flat Lead Bricks, Cast Interlocking Lead Bricks, or Machine Interlocked Bricks.
While most lead sheet orders ship the same day or next day, special orders are also available for sheets up to 10' long.
FLAT LEAD BRICKS
Flat or straight edge lead bricks are easily stackable and can be relocated, offering excellent radiation protection.
Though lead bricks can be customized, the most used sizes are:
2" x 4" x 6"
2" x 4" x 8"
Mayer can supply flat lead bricks with epoxy paint or powder coatings. Both types of finishes reduce environmental exposure and provide safer handling.
CAST INTERLOCKING LEAD BRICKS
The V-shaped tongue and groove connection of cast interlocking bricks creates an overlap of lead material at the seams. This unique locking mechanism allows for greater stability during build out, a tighter fit, and continuous, uninterrupted shielding.
Cast interlocking bricks are available in the following sizes:
¾" x 4" x 12"
1" x 4" x 12
1-1/2" x 4" x 12"
2" x 4" x 12"
2-1/2" x 4" x 12"
MACHINED INTERLOCKING BRICKS
Machined Interlocking Bricks have a U-shaped or horseshoe-shaped tongue and groove, but are similar to cast interlocking lead bricks in their benefits and applications. These types of bricks are customized to your specific project. At any length or width, the thickness can range from 1/2" to 2".
For more information and current pricing, contact 888-513-7971, email sales@mayeralloys.com or fill out the form in the link below.